सर्वमंगलमांगल्‍ये शि‍वे सर्वार्थसाधिके शरण्‍ये त्र्यंबके गौरि‍ नारायणि‍ नमोस्‍तुते.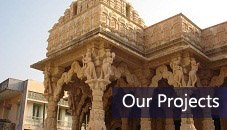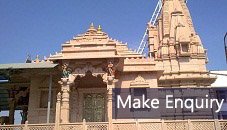 Welcome to Mateshwari Temples
Mateshwari Temples Construction Pvt. Ltd. is a group of professional architects in the field involving built environments since last 20 years. Our professionals use the latest computer technology to model, perceive and present all our works.
We are specialized in restoration and extension of old temples as well as designing of new Indian temples. We are also in field of designing statue of deities more than 100 feet in various parts of India. We are currently working on execution of temple complexes in various parts of India.
Profile
Mr. Mancharam Started Journey since 1971 from first firm namely Mahadev Shilp Kala Center at home town at VPO - Ajari, Distt – Sirohi, Rajasthan. Then he involved in Dream Project RAM MANDIR, AYODHYA till 2000 to 2004. Mr. Mancharam has 40 years grand experience from first project Jammudeep, Hastinapur (U.P.) to till. Now both sons Mr. Naresh Lohar & Mr. Rohit Lohar also following her footprint.